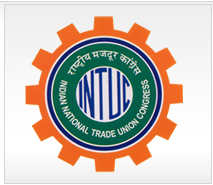 Indian National Trade
Union Congress
"Shramik Kendra",
4, Bhai Veer Singh Marg,
New Delhi - 110 001.
Phone : 91 11 23747767
Fax : 91 11 23364244


Affiliations


Any trade union of workers/association of employed person, whether registered under the Trade Unions Act or any other statute, accepting the objects, means and other obligations under the Constitution may seek affiliation to the INTUC.

Any union seeking affiliation shall apply in the prescribed form and in accordance with the procedure prescribed by the Working Committee.

There shall be remitted along with the application an application fee of Rs. 10/- and the affiliation fees payable as per this Constitution.

No union having on its executive committee members of any union or organization rival to the INTUC shall be granted affiliation unless it be that the Working Committee for any special reason grants exemption.

No union affiliation to any rival organization shall be granted affiliation.

The Working Committee may in the discretion, decline any application for affiliation without assigning any reason.

Affiliation fee :

The Financial year of INTUC shall be from 1st January to 31st December.

Each affiliated union shall pay to the Congress annual affiliation fee at the rate of Re. 3/- per member on the basis of membership on its rolls on the close of the preceding year, subject to a minimum of Rs. 300/-. The Working Committee may grant concession in the rate of affiliation fee in respect of unions functioning in Bidi, Fisheries, Agriculture and such other industries in the unorganized sector.

The Current Annual Affiliation fees shall be paid by the 30th September of every year and the special levy within such time as may be prescribed.